I would never wish this upon anyone as I personally know the frustration you have to go through. However it is best you have an understanding.
Your Next of Kin will have to:
Appoint Administrator
Compile Information for Assets and Documents
Carry out Self-Investigation on Debts and Assets
Obtain LA from High Court
Admitted as Administrator
Prepare Complete Estate Account
Distribute Assets
Approximate Time Until Beneficiaries Can Access Funds: Three to Five Years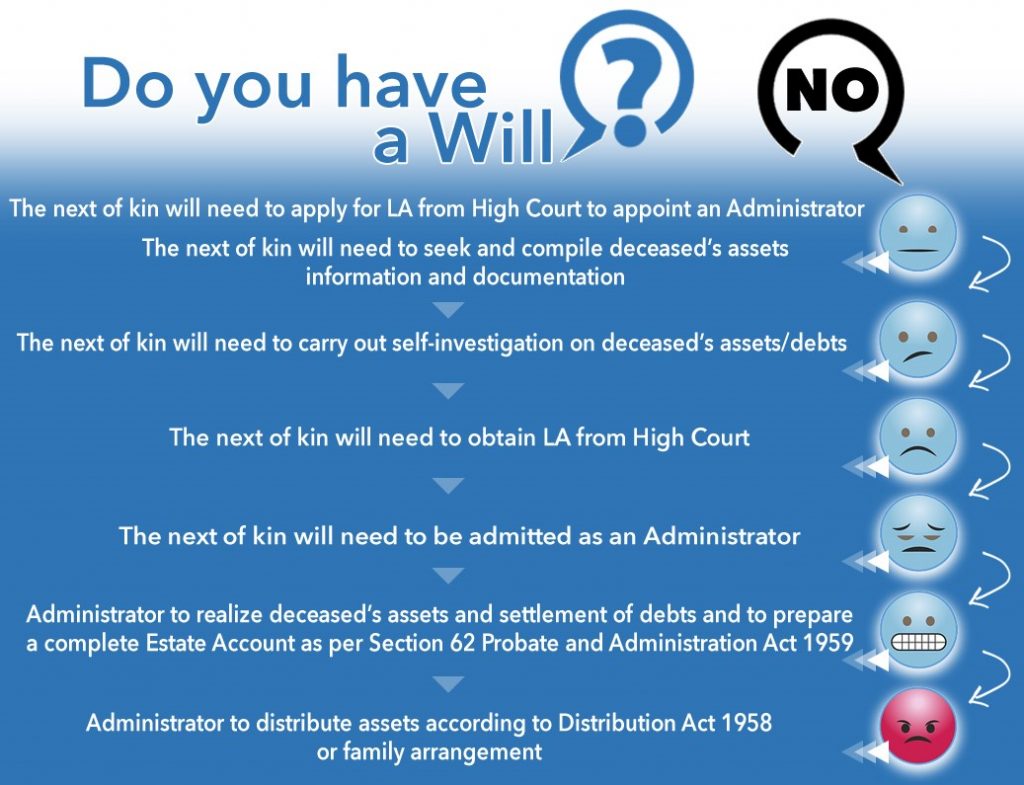 WillsMalaysia is creating awareness on the importance of writing a will and to provide an affordable alternative to all Malaysians. MyLastWill™ is a convenient, affordable and simple way to create a legal will easily and at an affordable price, all from the comfort of your home. Utilize our online wizard to innovatively create a will today! WillsMalaysia offers the most competitive prices and customizable options for all your Will and PoA documentation needs. All our products have the option to be stored in a secure physical format, to be reviewed by a lawyer, or to have unlimited updates to keep up with your busy life. No other company or lawyer beats our prices and services!
10 Reasons to Choose Us
1. A "lawyer-approved" online service
2. The most comprehensive service in the market
3. Simple step-by-step instructions
4. Uses plain and simple language, without the legal jargon
5. Online help every step of the way
6. Save hundreds of Ringgit in legal fees
7. Free-of-charge unlimited updates
8. Complies with Malaysia Wills Act 1959
9. FREE to try
10. All from the comfort of your home